Dedicated to our Community
The O'Leary Foundation is a philanthropic organization dedicated to the support of programs in human services, education and health care initiatives that offer significant, potential support for individual development and community enhancement.
The foundation was established in memory of Muriel and Bob O'Leary who lived their lives for the service of others. Whether from the healthcare or education arenas or in their enthusiasm to community service, they lived to touch hearts and make their community a better place to live. This is a legacy their children, grandchildren, and friends have perpetuated through the creation of the O'Leary Foundation.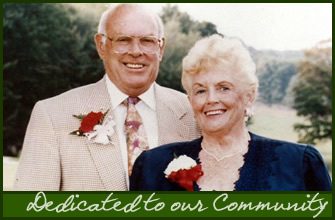 A thank you from our president…..
Dear Supporters,
The O'Leary Foundation board of directors along with the O'Leary family would like to thank you for your support in this year's "A Night Out with Muriel & Bob", 2015 Event. With your support, WE ARE MAKING A DIFFERENCE IN OUR COMMUNITY. For the 180 people that came to the event and participated in all of the fundraising, we thank you. For the supporters that could not come, but donated funds, we thank you as well. All of our participators & donors helped The O'Leary Foundation meet our goal for this year's event.
We would like to extend a special thank you for our Claddagh sponsor, $5,000.00 Jasons Foods. Our Dublin sponsor, $1,000.00 Ranchers Legacy. Benefactor sponsors, $500.00 Coach Maskill, Colleen & Alex Mills, Rob & Jill Shell, Kevin & Deb O'Leary and World Sales Inc.
This was our 3rd year with Auctioneer Jeff Goaker at JK Bid Auction and once again Jeff knocked it out of the park. Thank you to ALL of our venders, as well as our friends and family that made or bought an item for our silent or live auction. Please look at our website to see the extended list. We could not do this event without you.
This was our 1st year at The Radisson Hotel & Suites in downtown Kalamazoo, MI. We could not have been happier with the move. The venue was certainly an upgrade of class and style.
Our Co-Recipient this year was Comstock Community Center (CCC). Our Foundation will be helping CCC by accreditation of staff and volunteers, to perform outreach programs and after school tutoring programs, which were Federal and State mandated in 2014
The O'Leary Foundation family awarded two scholarships this year. They were awarded to Rosalie Artman from Allegan HS, Allegan, MI and Amanda Garnell from Houghton HS, Houghton, MI. "May your journey be filled with giving and never lose sight of your dreams." Congratulations to both of these young Ladies.
I also want to thank my friend Brian Lucas and his family for their support. The Lucas family is a prime example of what the O'Leary Foundation is about; love, community, giving back, and family. Thank you Lucas family for your support on this year's event.
Live music provided by our friends Michael & Sarah Billingsley helped to create a giving back feeling that Bob & Muriel taught us. "That we all have more then we should, Did I do all that I could? A Life that's Goods"
Thank you very much from our hearts to yours.
God Bless,
Kevin O'Leary
President of The O'Leary Foundation