Annual Auction
"A Night Out with Muriel & Bob" Memorial Dinner Dance, held once a year, is the O'Leary Foundation's annual fundraiser. During the evening, we start with a room filled with silent auction items to be bid on at your leisure while everyone enjoys hors d'oeuvres. Dinner is then served and the Live Auction is held and the silent auction is then closed. Various other fun activities are also held such as the Bag Toss game, Balloons, and the 50-50 raffle.
Items from the auction are donated from businesses and friends in the surrounding counties as well as nationwide.
Although we continue to go back to the same people, we are always looking for new items, new ideas, and new support. The O'Leary family and Board of Directors of The O'Leary Foundation would be honored to have you join us.
This year we are entering into the first year of our three year partnership with Bronson Healthcare. Bronson has developed an Advanced Illness Management (AIM) program to provide care for patients facing advanced illness where they often need it most: their home. Collaborating with our primary care providers, sub-specialists and our hospice partners, it is our goal to provide clinical, homebased care and education so patients and families make informed decisions about the right care, at the right time, at the right place for them. Though this approach is clearly the right thing for patients and families, much of the work is not reimbursed by patients. Therefore, The O'Leary Foundation and Bronson AIM program have partnered in order to fund this great program.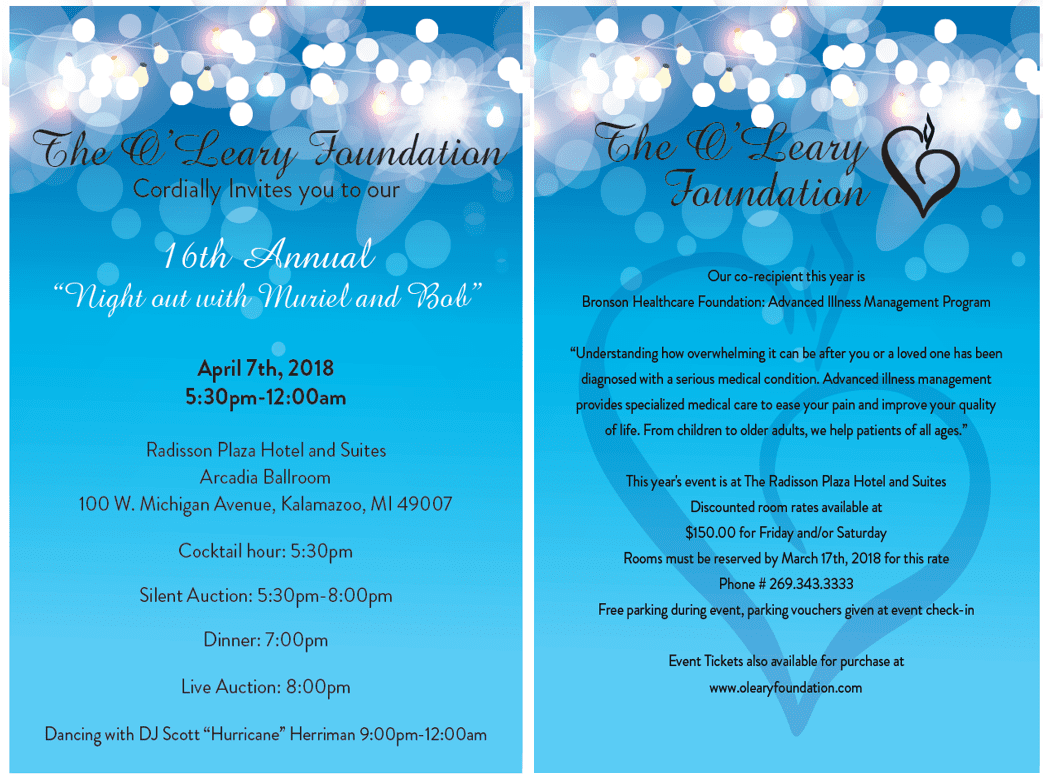 For ticket information, please contact: Maureen Morin at (906) 281-0499
Any other questions, please contact: Kevin O'Leary at (269) 720-6721
Our 2017 Auction Donors
ABC Warehouse, Airway Fun Center, Alicia Vesey, American Freight, Amplify Event Planning, Amy Madsen, Ann and Bob O'Leary-Smith, Applebee's, Arcadia Brewing Company, Audrey Hart, A'vie, Barkin' Babies, Becki Blackburn, Bed Bath and Beyond, Bert's Bakery, Best Way Disposal, Bilbo's Pizza, Bill and Kellie Cekola, Bittersweet Ski Resort, Boatyard Brewing Co., Bob & Norma Powell, Bob Evans, Brandy Aucunas, Brian Merica, Canal Street, Cathy Green, Celtic Seasons, Chelsea Brown, Cindy Fetke, Civic Theatre, Dave & Renee Drap, Dawn Mathews, Detroit Red Wings, Detroit Tigers, Don and Maureen Morin, Donna Desmond, Doug Saurman, Edible Arrangements, Eric and Kristen Grimm, Eve's Salon, Evolve Salon, Family Farm and Home, FireKeepers Casino Hotel, Flair Interiors, Four Rose, sGalesburg Meat Locker, Gary and Shawn Segur, Golden Bee Designs ~ Jennifer Goldbach, Gonzo's, Grand Rapids Griffins, Great Lakes Shipping Co., Gregs Car Service, Hardings Market – Galesburg, Harold Zeigler, Hart's Jewlery, Home Depot, Hot Slice, Jac's Pizza, Jan & Al Grajek, Janet Ranginis, Jason and Laurie Klein, Jean Tolhurst, Jed and Kaity Segur, Jim and Mary Knecht, Jim Van Zandt, Jo's Hallmark, Jude's Barber Shop,Judy Lemon, Judy Nowak, Jungle Joe's Family Fun Center, Kalamazoo Municipal Golf Association, Kathleen Krank, Katie & Lawrence Nameche, Kazoo Audio, Kerri Kahlmorgan, Kitchen House, La Cantina, Inc., La Z Boy, Latitude 42, Laura Bean, Liberty Square, Louie's, Lowes, Main St. Pub, Margaret & Ron Sayen, Mark and Linda Hoensheid, Mary Meagher, Maskill Art, Mega-Bev, Meijer – Gull Rd, Monroe Hair Design,  Nick's Gyros Trailer, Niskers, North 11, Olive Cart, One Well Brewing, ORI Outdoor Environment Inc., OsborneKlein, Patrick and Kendra Knecht, Peggy & Norm Holzhauer, Pet Supplies Plus, Phyllis Youse, Plainwell Ice Cream, Radisson Plaza Hotel, Rebecca Costello, Richland Meat Market, Roger and Shirley Knapp, Rose and Dave Baker, Rupert's Brew,  HouseSalut Market, Sandie Samuelson, SeaLandAir Travel, Seat n Sleep, Serafinos,  Sharon Hadley, Shawn and Gary Segur, SportClips, Star World, Sweet Manufacturing, T.G.I. Friday's, Target, Terry and Kirsten O'Leary, The Ample Pantry, The Bottle,  The Calico Rabbit, The Dock at Bayview, Tiffany's, Tom and Sandy VanErkel, Tracey and Al Whitaker, Tractor Supply, Tyler and Ella Segur, Uncle Ernie's Pancake House, Unclee's Barber Shop, Up North,  Upton for All of Us, Vac World, Value City, VanderSalm's, Vincent and Tina Dean, Vladimir Art, Walmart, Wedel's,  Welling, Ripley and Labs Furniture, Wenke's, West Michigan Beer Tour, Western Michigan University, Wiser Productions, YardStuff Plus, & Zoup
Thank you!!!!